The Israeli National Rugby 7s team was the first to benefit from the Abraham Accords and toured to the UAE for a friendly tournament and joint training camp. Following months of planning and last minute changes, the team landed in Dubai on March 16th, 2021 and made history.
UAE coach Apollo Perellini and Israeli coach Kevin Musikanth worked with the joint squad for two days preparing them for game day on March 19th. Our Emirati friends have spared no effort in hosting us and game day saw a multitude of media channels all wanting to report this special occasion. Both captains had their hands full interviewing internationally. The teams marched onto the field with flags waiving and national anthems playing followed by a recorded video blessing by President Rivlin of Israel.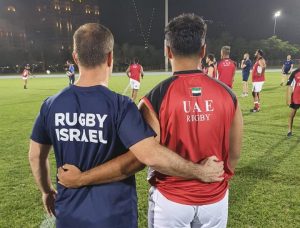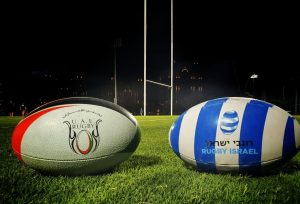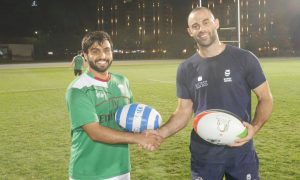 Initially both teams played each other in a friendly face-off with the Israeli side gaining the upper hand (33:0) and winning the Abraham Cup. Soon thereafter the teams returned to the changing rooms only to emerge as blue Vs white with Israeli and Emirati players joining forces in a mixed match.
This was the ultimate expression of camaraderie in the true spirit of the game of Rugby. Catch some of the action here.